Bill Maguire
CHIEF OPERATING OFFICER, NUCLEAR OPERATIONS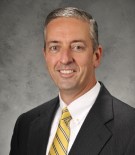 Bill Maguire serves as chief operating officer, nuclear operations, with oversight responsibility for Grand Gulf, Cooper and Waterford 3 nuclear stations.
Prior to his current role, Maguire was the vice president, distribution services for the enterprise.
Before his time leading distribution, Maguire served as vice president, operations support for Entergy's nuclear fleet, where he was responsible for providing corporate governance, oversight and support for Entergy plants to ensure safe, reliable and efficient plant operations. He also served as site vice president of River Bend Station until 2019. Maguire's career started at Entergy in 2001, serving in various roles until leaving the company to work with other nuclear operators in 2008. He returned to Entergy in 2012.
Updated April 2021