John Elnitsky
SENIOR VP, ENGINEERING AND TECHNICAL SERVICES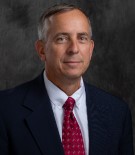 John Elnitsky is senior vice president, engineering and technical services for Entergy Nuclear, where he has served since 2016.
Elnitsky came to Entergy with a long career in nuclear energy, serving with other utilities as a senior vice president of nuclear engineering with responsibility for corporate and site engineering of multiple nuclear reactors. He has held a number of key leadership roles of in the areas of project management, construction and engineering.
Before joining the commercial nuclear industry in 2007, Elnitsky served 31 years in the U.S. Navy, leaving the service as commander of the naval undersea warfare center. As commander, he led a 4,100 member workforce and a $1.3 billion research, development and engineering business.
Elnitsky earned a bachelor's degree in mechanical engineering from the U.S. Naval Academy and completed post graduate work in engineering.
Updated April 2021