Larry Coyle
SENIOR VP, NUCLEAR CORPORATE SERVICES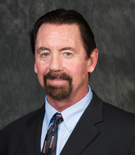 Lawrence M. Coyle is Entergy Nuclear's senior VP of nuclear corporate services, with responsibility for the operations support team, regulatory assurance and outage services. Before that, he served as chief operating officer since August 2016.
Coyle is a veteran of the nuclear power industry, serving as site vice president at Entergy Nuclear's Indian Point Energy Center. Prior to leading Indian Point, Coyle led the team at James A. FitzPatrick nuclear power plant in upstate New York as site vice president.
He began his nuclear career with Exelon at Dresden Nuclear Power Station as an engineer in 1982. He moved on to achieve the license of senior reactor operator and held leadership positions of field supervisor, main control room supervisor and shift manager. He also served as the mechanical maintenance manager and work management director at Dresden. During his tenure at Dresden, he served for one year as an operations peer evaluator for the Institute of Nuclear Power Operations from 1995 to 1996.
Following his work at Dresden, Coyle served as operations director at LaSalle Nuclear Power Station. He then accepted the position of maintenance director for Braidwood Nuclear Power Station. He was subsequently promoted to plant manager in 2007 where, under his leadership, the organization realized its best safety, human performance and collective radiation exposure results. Coyle was named general manager, plant operations for Entergy's Indian Point Energy Center in October 2011.
Coyle holds a bachelor's degree in nuclear engineering from the University of Illinois at Urbana and a master of business administration degree from the University of Chicago. He is a member of the American Nuclear Society and has served as a board member for Big Brothers and Big Sisters.
Updated April 2021