Senior Vice President, Nuclear Operations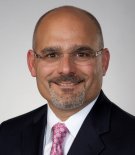 Chris Costanzo is the senior vice president, nuclear operations, reporting to Chief Nuclear Officer Chris Bakken. He is responsible for the operations of the entire nuclear fleet, as well as regulatory, outage services and operations support. 
Previously, Costanzo served as chief operating officer for Entergy's northern fleet, which consists of Indian Point and Pilgrim.
Costanzo joined Entergy in 2017. Prior to that, he worked at NextEra Energy where he served as site vice president for the St. Lucie Nuclear Power plant in Florida. In this role, Costanzo led a successful recovery and operational plan that positioned the plant to an "Excellent" rating by INPO standards.
Before joining NextEra in 2015, Costanzo held several key leadership roles in operations and senior management at constellation Energy's Nine Mile Point and Calvert Cliffs. He also held assignments at Duane Arnold Energy Center and Peach Bottom.
Costanzo served in the U.S. Navy as a first class machinist mate and is a graduate of Naval Power School where he also served as a training instructor.
Updated 3/19