Kimberly Cook 
CHIEF OPERATING OFFICER, NUCLEAR OPERATIONS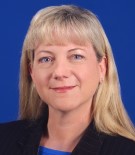 Kimberly Cook is Entergy's chief operating officer, nuclear operations, with oversight of Arkansas Nuclear One, Palisades and River Bend Station.
Cook brings nearly 25 years of nuclear experience to the role, having joined Entergy's Waterford 3 team in 1996, then holding a variety of positions in engineering, maintenance, operations, continuous improvement and regulatory assurance.
She was licensed as a senior reactor operator at Waterford 3 and became general manager, plant operations in 2011.
For two years, she worked as an organizational effectiveness leader at the Institute of Nuclear Power Operations in Atlanta, performing plant evaluations focused on organizational functioning, particularly in the team and leader effectiveness areas. Before went on to lead the system planning and operations organization for Entergy Nuclear and later served as vice president, operations support for the nuclear business. 
Updated April 2021